When the indoor unit becomes the "brain" of video surveillance
The camera of almost any manufacturer, as well as the electromechanical ramp, can become part of the DVC intercom system, which results in an efficient, smart security system that becomes a video surveillance center through the internal units.
With the elegant models DVC IX471S and DVC IX470 and it's 7″ IPS TFT touch screen with a resolution of 1024x800px, using the "picture-in-picture" function you can supervise the image from the external unit of the intercom system and an external, integrated camera. It can, for example, be placed next to the ramp itself and thereby enable additional monitoring of entry/exit for vehicles and people.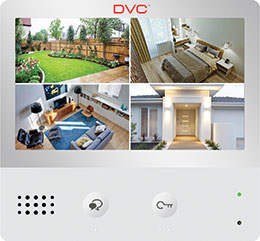 Besides "picture in picture", these indoor IP units also have the option of "quad view", which allows simultaneous viewing of 4 different video sources (cameras or external intercom call units), which makes them an even better and more effective security tool that enables remote monitoring of key property points (door, ramp) from different angles.
Complete integration with all the mentioned features is also possible on the 2-wire indoor units of the Wi-Fi series, DVC DX471S and DVC DX470.
DVC intercoms are suitable for small, medium and large systems, from a house or villa, to a building with multiple entrances or a more complex system.

For more information, contact the local office of Alarm automatics or find out more at the link: https://www.dvc.video/en/blog/numerous-new-ip-monitor-options/